INFORMATION DESIGN and DATA VISUALIZATION
Over the course of three decades, our societies have been marked by the gradual proliferation of layers of information implying a new kind of intelligibility of reality through the prism of data.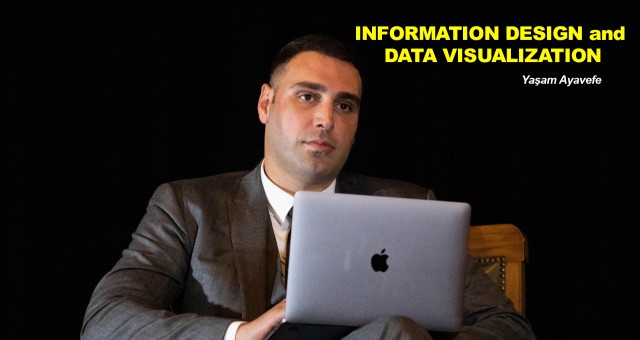 This new relationship with reality leads to reformulation of the way of grasping knowledge, of transmitting knowledge. It changes the relationship with its use. In the context of the growth and diversification of information, communication and referral media, visualization is poised to become a mass medium.
Definitions and Functions
Data visualization refers to any visual representation of data that facilitates the use, analysis, and communication of data. Information design and scientific visualization are subsets.
Information design in computer science refers to the effective presentation of information. It details the data and makes it possible to present it in a way that is well understood. The term is often associated with disciplines such as graphic design and data visualization.
When designing information, data analysts must consider the type of target audience. It is necessary to determine the most effective way to present the data to the target audience.
Information design can be compared to two other disciplines: information planning, which studies datasets and their relationship to goals, and information architecture, which governs how background information should be organized.
Information design already deals with structured data. Its role is to reveal this structure in a meaningful way. An example is the famous London Underground map, which was designed in 1931 and uses structured data.
Conversely, data visualization works on unstructured data to reveal its organization. Its role is embodied in the visibility of this structure.
This issue of distinction is therefore repositioned in functions specific to each of these disciplines. Data visualization is about organizing data visually, while information design is about giving meaning to it.
TRANSMITTING MEANING TO THE COMMUNITY
Information design results from a balance between scientific accuracy, aesthetics, cognitive efficiency, and accessibility issues determined by a context.
It reveals the relationship mechanisms such as continuity, similarity, closeness, order and proportionality. It creates a language arising from the expression of these main principles that activate the studies on shape, size, color and orientation.
Among the first graphical representations of data to date, the panel of representation modes and techniques has continued to grow: pictograms, pie charts, pie charts, timelines, tree maps, word clouds, cartography, 3D, photo-visualization, video, etc.
The 20th century introduced founding methods of representation, such as graphic semiotics, which created a universal and non-verbal language, Isotype, through easily interpretable symbols. The set of rules of a graphic sign system is looked at for information transfer.
information design examples
information design pdf
importance of information design
information design principles
types of information design
information design vs graphic design
information designer job description
Data visualization challenges
The purpose of information design is to make information more accessible. But the promise of data visualization is to simplify access to structured information from complexity.
The aim, the challenge, is to make visible the social and material conditions specific to each production. On the one hand, it allows the identification, understanding and analysis of processes, software tools and databases.
It is also giving the user an active role in the process by allowing them to comprehend and process the data.
Yaşam Ayavefe
0
0
0
0
0
0
BU HABERİ OKUYANLAR BUNLARI DA OKUDU